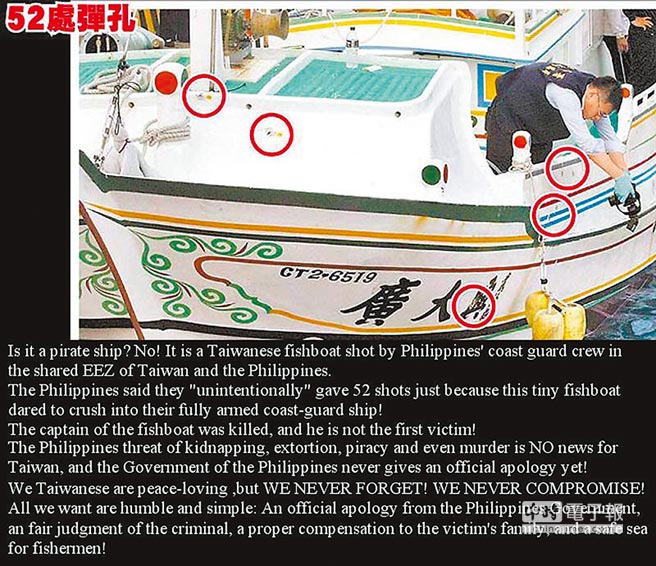 -May 9th, 2013. A Taiwanese UNARMED fishing boat, Guang Da Xing
was fired upon by a Philippine ARMED GOVERNMENT vessel in
Taiwanese(ROC, Republic of China) Exclusive Economic Zone (164
nautical miles from southeast of Cape Eluanbi), without any
warning.
A Taiwanese crewmember of Guang Da Xing was shot to death.
According to the investigation, the Philippine coastguard
chased Guand Da Xing for an hour, there were at least 52 bullets
holes found all over the boat. There were obvious evidences to
show the Philippine coastguard's intent of murder.
-Taiwanese government demand an official apologies from
Philippine Government, and request Philippine Government to
cooperate a clear、serious investigation with Taiwanese ministry
of foreign affair investigators.
However, the Philippine Government not only refused to give
an official apology but also interfere the investigation by
protecting the criminals and tried to cover the truth. They
insisted Guang Da Xing smashed the coastguard vessel first,
what they had done was just a reasonable self-defence.
-Okay, let me explain the smashing part first before we continue.
The Philippine vessel is a length 90 feet, width 80 feet
and weight 90 tons armed vessels, while Guang Da Xing is
only a 15 tons small unarmed fishing boat.
Besides, there wasn't any crushing abrasion found on
Guang Da Xing.
-The Philippine Government uses their advantages of an
English speaking country, spreading the propaganda toward
their people and the world, tried to flare the ethnic hatred
and direct the international opinion into the wrong way,
making people to believe that Taiwan was abusing a country
which is weaker than them by enforcing unreasonable economic
sanctions.
What Philippine Government had done was a cold-blood murder,
violence toward conscience and public morality, and an
intentional ignorance toward the international act.
THE WHITE HOUSE PETITION, SIGN UP TO SUPPORT TAIWAN !
美國白宮連署地址,就差你一票!
步驟很簡單,往下轉,有帳號直接點擊"Sign This Petition",沒有帳號
的只需點擊"Create an account",以email建立帳號,並登入,再點"Sign
This Petition"即可!